PERSONAL TRAINING & SMALL GROUPS
 IMPROVE YOUR FITNESS & STRENGTH
With James Beeson Personal Training, Highcliffe, Christchurch
No matter what your age, size, lifestyle, ability or goal, James Beeson will personalise a health and fitness programme to suit your needs. James has vast experience with clients from all walks of life. Not only is each programme tailored to suit the individual, James' nurturing approach ensures the support you need to achieve your goals.
Whether you are a complete beginner or have been training for years, James will work with you to ensure your success.
I believe that Strength is the foundation of a healthy life. A strong body and mind will keep us able to do the things we love, now and into our later years.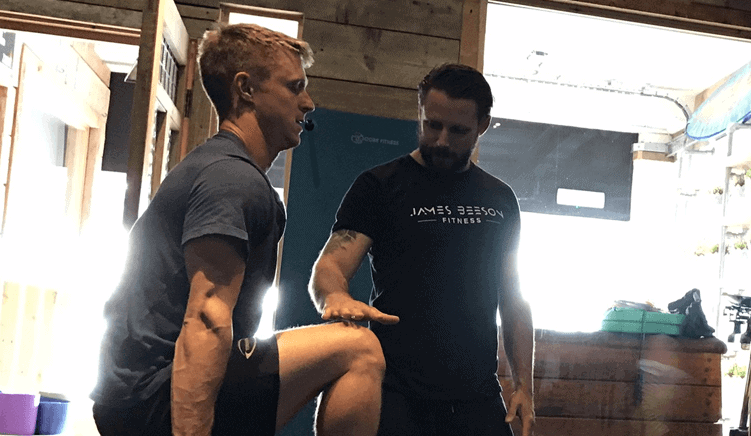 A certified Combined Strength and StrongFirst® coach, James will use his years of experience and qualifications to deliver a dedicated fitness plan.  Through using a range of strength, mobility and cardiovascular techniques James will help you transform your body, improve your life style and encourage overall well being.   
Sessions are available at James' purpose built personal training studio in Highcliffe. Alternatively home visits can be arranged along with outdoor sessions upon request. 
Your Personal Training Journey with James Beeson will be entirely tailored to focus on achieving targets based on your requirements. Whether your objective is weight loss, weight gain, improved strength or better mobility, James will tailor a plan to ensure manageable achievements throughout the process. 
New clients will begin with an initial consultation. A friendly chat about your lifestyle, what you hope to achieve and how you can achieve it together. 
Each session will use a range of techniques and different structures to ensure a varied programme. Your tailored programme may include the use of kettle bells, weights, body weight exercises and mobility training depending on your aim. 
Small group training can be exceptionally rewarding and even enhance your fitness experience. Get a group of friends together to train for an event. Or perhaps you are a husband and wife wanting to improve your lifestyle together. Whatever your needs, small group training can inspire extra motivation. A healthy dose of competition can really push you to accomplish results. 

James Beeson Fitness Small Group Training Sessions are innovative and structured to ensure fun is had by all whilst working hard. Sessions can be tailored to groups of 2-6 people and can focus on increasing mobility, cardiovascular fitness, strength & endurance coaching or high intensity training. 

Sessions can be catered for at James' Highcliffe studio, at your home or outdoors. 
Get in touch with James for a friendly chat about your training requirements

Real people with real success stories. By working with James Beeson Fitness, each client has achieved incredible results.
"I've been in the fitness industry for more than 10 years, initially as a PT specialising in pre and post natal and latterly as a yoga instructor. When I found James I'd been stuck in a rut and dealing with some repetitive injuries. At 45 I suddenly felt lost, uncertain about my physical strength, disappointed in my body and not even slightly empowered. James is massively encouraging and has a way of turning any of my negative thoughts into positive ones! He has superb anatomical knowledge and has taught me a huge amount in terms of technique so I'm completely maximising my time training. I have met a lot of PTs in my time in the fitness industry and James' depth of knowledge is really hard to find. As well as this, James knows exactly how much I'm capable of (even if I don't!) and always manages to quietly persuade me to do more than I think I can. I feel way stronger and have seen great progress. I know I have a way to go but for the first time in a while I am really enthused about what I can achieve physically and completely certain that if I put my mind to something, I can do it. Restoring someone's self belief is worth its weight in gold. Thank you James."
"I started to use James last year after being told I needed my lower spine fused. Before having this operation a friend recommended I went and saw James as he is good with sports injuries. Following 6 months of intensive strength and conditioning my back improved hugely, fitness was back, started running again and since cycled across New Zealand. James really knows the human body and his approach to getting me back on my feet has been superb and the doctors can't believe how much I've recovered."